"Wild" might be a slight exaggeration...
I love a  good party and I'm having a blast with Pinterest. This weekend I combined the two and hosted a Pinterest party. Woo hoo, Parrtay!
A while back I posted about a Quilling craft I tried and got lots of questions and compliments about it. So, I thought let's have a party and try it out as a group.
A friend of mine was nice enough to make this great invitation on her iPhone and I was able to send it by text. Isn't technology great?

Not sure what quilling is? It is the process of rolling thin strips of paper  into different shapes and gluing them to a background to make a design.  My biggest quilling project so far has been a monogram for my mom that I made for her birthday. Click here or on the picture to check out that post but be sure to come back and see girls gone wild  Pinterest style (sort of) .

After making my project I came up with a couple of ideas on how to do some parts of this project differently. I thought the party would be a good place to try these new techniques so, you may notice some differences in the process this time .
Everyone started by choosing their monogram letter and we printed them out onto regular printer paper. With the background paper underneath the page we had just printed, we traced over the outline of the letter to leave an embossed tracing onto the background paper.  Make sure to use plenty of pressure when doing this to have a good pattern to follow.

Now the "fun part" begins, applying the paper outline of the letter. This part is the most tedious part of the project. The paper and glue can get a little awkward to work with. Sometimes, the long strips of paper and glue seem to have a mind of their own! We found that using plain Elmer's white glue worked best.

Actually, I think everyone found this part down right frustrating. But, with a little patience and some help from Hippie Juice, everyone got though. The Hippie Juice recipe is from Jenny over at Peace Love Guacamole via Pinterest, of course.
WARNING: This is one of those drinks that will sneak up on you. It is very tasty and easy to drink
Now the real fun begins, time to fill in. (After a little Hippie Juice anything is fun.) Everyone seemed to enjoy choosing the colors of paper to use and rolling them into coils and making different shapes. There was a little concern about the outlines of the letters not being perfect but as they were filled in, those imperfections become less noticeable. We looked up some other quilled monograms online. We found some that were really nice but as we enlarged the picture we noticed they weren't perfect either. Art is about self expression, not perfection so why not relax and have fun with it?
Below, in the picture of the "B" and in the picture of the "L", you can see the two types of quilling tools we used. The one in the "B" Is a DIY quilling tool made of a cork and a needle. This was of course found through Pinterest. Sandy at The Sweet Spot has some true quilling talent and great instructions on making this tool. In the "L" picture you can see the purple handled commercial quilling tool that comes in a kit. The tool from the kit is easier to use but if you're not sure if quilling is for you, the DIY version is a simple inexpensive way to start.

For all but one of these ladies, it was their first attempt at quilling. Not bad huh?  They are well on their way to completing their monograms. It was a fun way for me to share something I enjoy doing and to spend time with friends. Thanks to Sherry, Vicky, Angela and Melissa for coming to my first Pinterest Party.

I used several Pinterest pins to help me plan this party. In an upcoming post I will review the good and the not so great. Stay tuned….
I've joined a blog party! I told you the girls have gone wild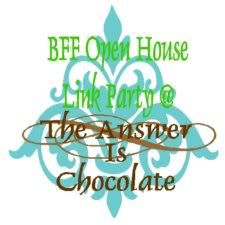 The following two tabs change content below.
Keeping you up to date with how to use Pinterest for your business. To get your Pinterest account on a strong foundation and to keep up with the latest Oh So Pinteresting happenings, be sure to sign up for my
free Pinterest video course
.
Latest posts by Cynthia Sanchez (see all)