Pinterest is a powerful marketing tool
I can help your group learn to how to use it with step by step, easy, affordable and actionable tactics for getting the most out of Pinterest.
For each presentation, I evaluate the needs and industry of the audience then present and teach based on those needs in a fun and informative way. I break down each part of using Pinterest into simple easy to understand terms that can be implemented right away.
For more information about a Pinterest presentation or workshop for your group or audience, please contact me at speaking[at]ohsopinteresting[dot]com or give me a call at 773-669-7461.
Previous Speaking Events
Social Media Marketing World San Diego, California March 25-27, 2015
Social Media Marketing World 2015 is the world's largest social media marketing conference.  Discover the best and newest ways to deploy and track social tactics: Take in 100+ practical, action-oriented social media marketing sessions from the world's leading experts
#We All Grow Summit Los Angeles, California February 26-28, 2015
#WeAllGrow Summit, by Latina Bloggers Connect, the go-to professional conference for Latina digital content creators and influencers.
Brand+Aid Arlington, Texas January 21-22, 2015 
Brand+Aid is the only conference of its kind geared toward public park and recreation organizations. Our speakers are industry experts who work with public sector businesses, non-profits and entrepreneurs.
Doable Social Summit September 15-26, 2014
Successful social media marketing means identifying opportunities, keeping up to date with changes, demonstrating results, and juggling limited time and resources. This online conference experts will help owners and marketers overcome "social overwhelm"
Agents of Change Conference – Portland, Maine September 26, 2014
If you want to increase your online visibility, drive more qualified traffic to your site, and convert more visitors into leads and sales, then this is the conference for you! A full day of search, social, and mobile marketing experts sharing the best tactics and strategies with you!
Join Pat Flynn, Chris Ducker, Cynthia Sanchez, John Lee Dumas, Nathan Latka, Heather Jackson, Greg Hickman, Rick Mulready, Nick Unsworth, Stephanie Sammons, and Rich Brooks for a full day of expert advice on search, social & mobile marketing!
Podcast Movement Dallas, Texas August 16-17 2014
In August 2014, hundreds of past, present, and future podcasters will converge on the Westin Galleria Dallas for two packed days and nights at the first ever Podcast Movement. We want you there. Podcast Movement 2014 will be THE gathering for anyone interested in podcasting. You can expect to find a place where not only will you leave motivated and inspired, you'll leave a BETTER PODCASTER.
BlogHer 2014 San Jose, California 2014 July 24-26, 2014
BlogHer is the premium cross-platform media network and publisher for women and creates opportunities for its members via a community hub, annual conferences and a publishing network of more than 3,000 qualified, contextually targeted blog affiliates who reach 92MM unique visitors a month. BlogHer provides the highest quality content on a range of topics, with all blogs continually edited to meet strict editorial standards, including content quality, category relevance and blog frequency.
Social Media Day Belgium – Antwerp Belgium May 28, 2014
What began in 2010 as a runaway bet has grown into an annual event. The Social Media Day Antwerp is celebrating its fifth anniversary Wednesday, May 28th !
Social Media Marketing World 2014.  San Diego, California March 26-28, 2014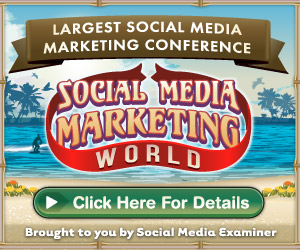 Join 60 experts (including Chris Brogan, Mari Smith, Michael Hyatt, Jay Baer, John Jantsch, Amy Porterfield, Mark Schaefer, Cynthia Sanchez and experts from more than a dozen brands) as they help you master social media marketing. Click here for details: LINK (affiliate)
New Media Expo in Las Vegas, Nevada January 4-6, 2014
The world's largest conference and trade show for bloggers, podcasters, web TV and video series creators.
Learn and network with the most successful New Media content creators in the World. You'll connect with peers attending from 50 countries for 3 days of educational sessions (over 140, in fact) presented by more than 175 industry leaders. (affiliate)
Dallas Digital Summit Dallas, Texas December 10-11, 2013
Dallas Digital Summit: Dallas' premier gathering of senior marketers, entrepreneurs, web strategists, bloggers and investors
Over 75 speakers from leading brands providing you the latest digital marketing and business strategies and best practices including:
Steve Wozniak "The Woz" Co-Founder, Apple Computer
Randi Zuckerberg Founder & CEO, Zuckerberg Media
David Shing Digital Prophet, AOL
Immerse yourself in topics such as Content Strategy, Usability/Design, Mobile Marketing, Customer Engagement, Social Media, Ecommerce, Email, Search, Marketing Automation, Analytics & Data, Video & Multi-Screen Experience and much, much more!
Social Media Success Summit presented by Social Media Examiner, October 2013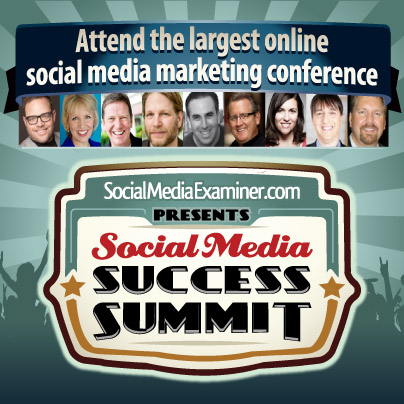 Join nearly 3,000 fellow marketers at the online mega-conference designed to empower and inspire you with social media marketing tactics—brought to you by Social Media Examiner.
You'll be led by 45+ of the world's top social media marketing pros—live from your computer wherever you are in the world!
Social Media And Content Summit @NYXPO New York City October 17, 2013
This one-day conference that features Teachers NOT Speakers™ is a digital communications learning environment for small business owners, media enthusiast and entrepreneurs. The SUMMIT features a mix of learning sessions that are created with a priority on facts, data, tactics and methods.
FinCon St Louis , Missouri October 17-20, 2013
FinCon, also known as the Financial Blogger Conference, is an annual event with a dual mission:
To provide a "real world" connection for the people who enjoy new media (i.e. blogging, social media) and finance (personal finance, money, investing, etc.).
To provide a peer education in current consumer financial trends, as well as trends and tactics in new media (e.g. blogging, monetization, social media, etc.).
Presentations
Television appearance
Google Hangouts
How can Pinterest work for your business: A workshop by Cynthia Sanchez

How do you know Pinterest is working for your business: A workshop by Cynthia Sanchez